In 2021, BBC Click explored some of the technologies and new approaches to helping as we age, can technology really help?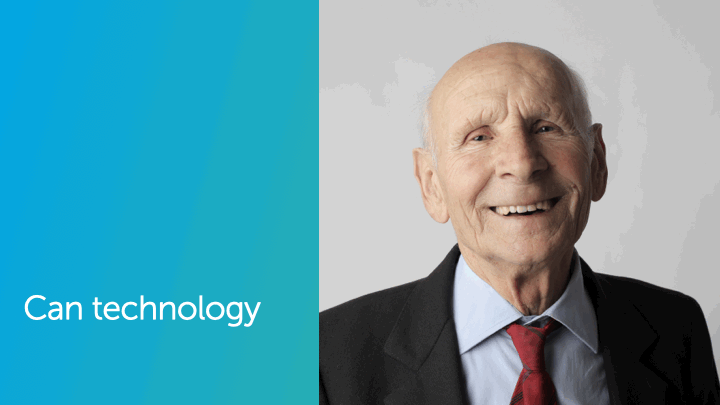 In 2021, Anthropos was one of 11 organisations featured in a BBC Click episode exploring ageing, and whether technology can help reverse (or reduce) the impacts of getting older. In this article, we'll explore the key questions raised in the episode: Can data be used to stop ageing in its tracks? Could unlocking the whole picture of our health make reverse ageing possible? And can technology be used to improve someone's health now?
Let's dig in.
A person's biological age isn't fixed
DNA testing has become increasingly popular over the last few years. Specialists at a company like Muhdo can now predict a person's epigenetic age, using a sample (in this case, a saliva swab) to see how someone's cells are ageing.
These tests — which are being pioneered at King's Genomics Centre, part of King's College London — can even predict the age of different organs.
For example, a person's eye age could be younger than their ear age. Epigenetic ages are often lower than someone's actual age – showing that biological age isn't necessarily fixed.
Lifestyle choices are important too
The researchers at King's and Muhdo believe that our biological age doesn't have to progress in just one direction (older), but the risk of developing an age-related disease can be increased or decreased based on lifestyle choices.
Data from DNA testing can build a personalised picture of a person's health, pinpointing things like what their diet should look like, how much stress they can be exposed to, and which medicines they can or can't take.
Research like this is important to understand the role that early detection and monitoring can have on our health as we age. If it is possible to better understand the body, DNA, and the ageing process, we may be able to improve our overall health and wellbeing.
Genetic trackers aren't the only testing tool that can be used to measure your biological score. Researchers are now able to use glycans, which are in blood. Glycans help to give a view of the age of immune systems, which can be helpful to monitor as we age, and as the body faces assault from different seasonal illnesses.
Intelligence can be used to improve someone's wellbeing
Much of the research and innovations shown in the episode demonstrate how people are focused on their wellbeing, and using data to make more informed decisions about how they live their lives.
It's all about helping give our bodies the best chance for long term wellbeing.
But what about older people?
After sharing some stories about how connected care is helping improve care outcomes for older people, Anthropos was invited to be part of the BBC Click episode. We shared the story of 89-year-old Eileen Hooper, cared for by Home Instead Tavistock & Tamar Valley.
Eileen's family, who live in London, agreed to have connected care installed as part of Eileen's care package with Home Instead.
Within 48 hours of the Anthropos-powered platform being installed, the data had started to identify signs of dementia.
Discreet smart sensors installed in her home to monitor movements and use of the kettle and fridge, allowed loved ones and the care provider to see her activity and spot any changes in her routine that might be a cause for concern.
This intelligence and insights allowed Eileen's family and caregivers to make simple positive changes to benefit her wellbeing, like putting up signs to remind her to make regular cups of tea and prevent dehydration – a key concern for Eileen's family.
The bottom line
The show highlights how much research and development is being done to help improve wellbeing as we get older. Whether through fitness, nutrition, physical and mental wellbeing, or appearance, the wellness market is already worth over $1.5 trillion (US) per year, and shows no signs of slowing.
Technology is making people far more aware of the impact lifestyle choices can have on their lives, and are actively working to make changes.
Which is one of the reasons we believe that connected care is the future of care at home.
Connected care helps identify when we may need help. Using data to make positive changes and provide carers, or family members with better information and reassurance can lead to better wellbeing.
Can technology turn back time and prevent ageing? Of course not, but it can be used to support a better quality of life as we age. Technology can be used to provide intelligence that can help us to make better-informed decisions.
We have an ageing population: more of us are living longer and will likely be living with multiple challenges to our wellbeing. While it is understandable that many companies and organisations focus on trying to 'fix' conditions, our focus remains firmly on preventing the preventable. Eileen's story shows that by providing intelligence about what happens to her when she is alone, we can support care providers to make simple changes to her environment and home that can improve her quality of life.
Check out the full episode below. For your convenience, the show will start at the section introducing Eileen.
Learn more about Anthropos' technology.
Follow those featured in the episode on LinkedIn: